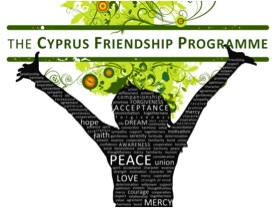 Cyprus Friendship Programme Graduation
Invitation to Graduation Ceremony
You are cordially invited to the graduation ceremony of the Cypriot teenagers who participated in the 2012 bi-communal Cyprus Friendship Programme
Date: Saturday 6th of October 2012
Time: 5:00 pm
Place: The Cultural Center of the European University Cyprus in Nicosia
The graduation ceremony will be a unique celebration of togetherness aiming to bring hope to the people of Cyprus:
There will be a video message from the daughter of Martin Luther King, Bernice King, who worked with our teens who were in Atlanta.
Nobel Peace Prize winner Archbishop Desmond Tutu who is a great supporter of the programme has sent us a message full of hope and humanity especially for this ceremony.

The bi-communal audience of about 300 of the families and friends of the teenagers receiving their certificates is itself an event of great symbolic importance.
The event is open to the general public.
Contact Tel: 99-498531 or 05338409792
Some information about the Cyprus Friendship Programme
The Cyprus Friendship Programme (CFP) now in its fourth year, is an all volunteer peace building bi-communal project for the young people of Cyprus. The aim is to create relationships of friendship and trust between teens of the two communities and replace prejudice with hope. A bi-communal team of Cypriot coordinators selects a number of teens from both communities through a written application and interview. Following that, each teen chooses another of the same gender from the other community with whom he/she believes they can be great friends. Through each 'pair' the families of the two teens are also brought together creating a multiplier effect in the peace building effort.
In July groups of 6 to 10 pairs travel in the US and are hosted for one month by carefully selected host families that cover all the expenses during the teens' stay. In July 2012, 60 teens (30 pairs) travelled to Washington DC, Portland Oregon, Atlanta Georgia and New Hampshire. Each pair living for one month with a family results in deepening the friendship of the pair and also creates strong bonds with their host family.
During their stay each group of 6 to 10 pairs meet many times for meaningful activities that range from fixing bicycles to be sent to Third World countries, having workshops on the principles of non-violence at the Martin Luther King Center, learning why and how Portland is a world leader in sustainable use of resources and how in New Hampshire there are good people working to solve the problem of child soldiers in Siera Leone. All the activities are organized by a dedicated team of CFP volunteers in the US who also make the selection of the host families.
The CFP is not only about a trip in the US. The teens and their families are involved in peace building activities all the year round in Cyprus organized by the team of Cypriot coordinators. These include:
presentations in schools and youth clubs
a strong media presence including their own bi-communal youth radio programme
the production of a documentary with Nobel Peace Prize winners Archbishop Desmond Tutu, President Jimmy Carter and Lakhdar Brahimi about the missing persons in both communities in Cyprus (http://theelders.org/article/cyprus-digging-past-search-future ).
Raising awareness to the truth that we have all suffered in Cyprus is a key aspect of the work of CFP. For example, the CFP teens formed a circle in the geographical center of Cyprus and kept one minute of silence in memory of all who were lost from both communities. That was a precious moment of healing of very deep wounds (http://ireport.cnn.com/docs/DOC-580337 ).
Families and teenagers interested to apply to join the CFP please call 99-498531 or 05338409792.