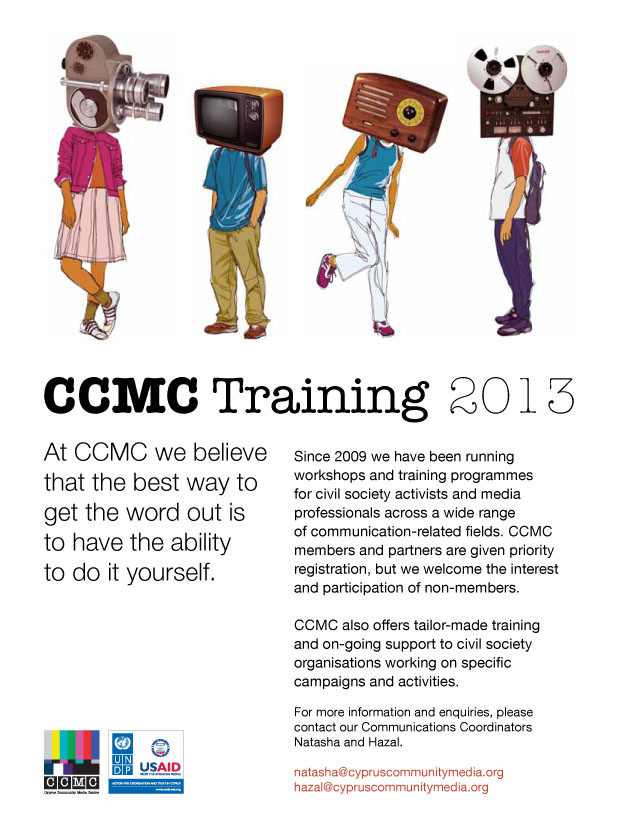 Since 2009 we have been running workshops and training programmes for civil society activists and media professionals across a wide range
of communication-related fields. CCMC members and partners are given priority registration, but we welcome the interest and participation of non-members.
CCMC also offers tailor-made training and on-going support to civil society organisations working on specific campaigns and activities.
The trainings we are offering this summer are as follows, please download the flyer for dates and more information on each training:
"BufferBuzz" Community Audio Production & Podcasting
Tuesday 25th June (10:00 – 14:00)
Friday 28th June (14:00 – 18:00)
Monday 1st July (10:00 – 14:00)
Friday 5th July (14:00 – 18:00)
You don't need to be a professional to develop audio products – all you need is a console and a mic and away you go! Come to one of the Audio Production and Podcasting trainings and learn how to harness the power of sound and create engaging audio productions that support your peace and reconciliation advocacy work; training in the use of open-source sound production (podcasting) software; create your own podcast, edit it and learn how to use CCMC's state-of-the-art studio.
Photography
Thursday 11th July (09:00 – 13:00)
We have all seen photos that have stayed with us forever, images that convey the essence of what is going on at a particular moment in time. Enter the world of photography through the lens of a civil society activist; learn the basics of how to use an SLR camera; take your own photos in your field of work.
Newsletter Creation
Thursday 27th June (14:00 – 18:00)
Keeping your audience up-to-date on what you are working on will keep people engaged and interested in your activities. Attain the skills to create your own professional-looking electronic newsletter; learn to identify what content to include as well as the best ways of presenting it; create your own newsletter and start to build up your mailing list.
Strategic Communication, Campaigning & Advocacy
Thursday 18th July (10:00 – 14:00)
An essential element of communicating your work is running campaigns and having clear messages that advocate for positive social change. Find out how and why advocacy is becoming an essential element of the work of civil society's work; learn how to structure a communications strategy from scratch, matching your aims and objectives across different media tools and platforms.
Register Online HERE!