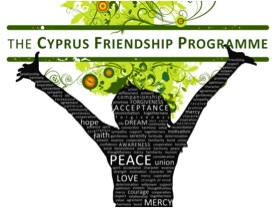 Cyprus Friendship Programme Graduation
Invitation to Graduation Ceremony
You are cordially invited to the graduation ceremony of the Cypriot teenagers who participated in the 2012 bi-communal Cyprus Friendship Programme
Date: Saturday 6th of October 2012
Time: 5:00 pm
Place: The Cultural Center of the European University Cyprus in Nicosia
The graduation ceremony will be a unique celebration of togetherness aiming to bring hope to the people of Cyprus:
There will be a video message from the daughter of Martin Luther King, Bernice King, who worked with our teens who were in Atlanta.
Nobel Peace Prize winner Archbishop Desmond Tutu who is a great supporter of the programme has sent us a message full of hope and humanity especially for this ceremony.

The bi-communal audience of about 300 of the families and friends of the teenagers receiving their certificates is itself an event of great symbolic importance.
The event is open to the general public.
Contact Tel: 99-498531 or 05338409792