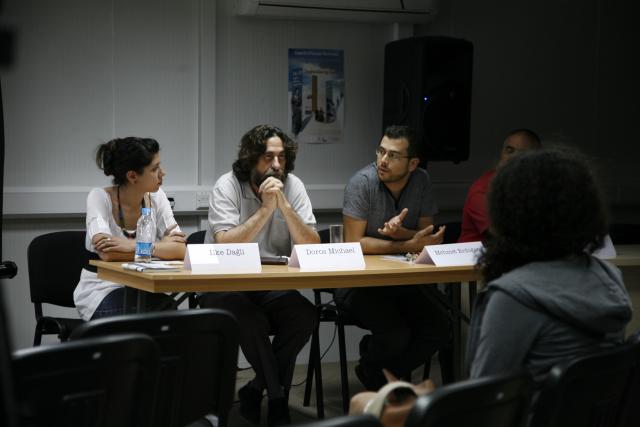 Undoubtedly, 10 Tactics has been screened in many interesting locations around the world, but its premiere in Cyprus on 27 May 2010 was quite unique. The screening took place at the Cyprus Community Media Centre (CCMC), situated right in the heart of the UN buffer zone dividing the Greek Cypriot and Turkish Cypriot communities and therefore accessible to all communities of Cyprus.

Activists from local civil society organisations, artists, environmentalists, volunteers and students gathered for the screening, which was preceded by a special workshop on 'Guerilla Mediamaking'. The workshop was the ideal precursor to the film as it focused on helping activists find creative tools for promoting their causes and engaging the public.

"As Cypriots, we always feel there are constraints and barriers that prevent us from effective activism," said Beran Djemal of the CCMC, speaking before the screening. "That's why 10 Tactics is a great source of not only inspiration on how to surpass those constraints, but also practical advice for activism that doesn't need funding or big budgets."
Around 55 people from across the island gathered in the afternoon sunshine at CCMC to watch the film. Lucinda Linehan from Tactical Tech gave an introduction to the screening where she spoke of how the film came about and the importance of peers sharing skills with peers. "We believe in developing creative strategies for using information technology in order to advance advocacy work", said Lineham. "An occasion like this evening is exactly what this film was conceived for and it is very encouraging to see people coming together of their own accord".

After the screening, there was a panel discussion with activists and representatives of various non-governmental organisations in Cyprus including Ilke Dagli of the EU Association, Doros Michael of KISA – Action for Equality Support and Antiracism, Mehmet Erdogan of Management Centre, and Mike Hajimichael of the University of Nicosia. Each spoke about their personal experiences of using community-based media and information technology in their work and the challenges they faced in the Cyprus context. The audience then shared their own stories and tips and a lively discussion ensued. People were keen to discuss ways in which 10 Tactics could inspire and inform new initiatives they were planning.

Information activism is a new and exciting area for Cyprus, and one of CCMC's aims is to provide training in a number of different techniques and strategies that will empower people to communicate and advocate better. Some of the training workshops CCMC provides include social networking, video production, blogging and podcasting, among others. CCMC also loans equipment, creates videos and holds public events in its efforts to promote the benefits of community-based media to a wide an audience as possible. "10 Tactics has been screened all over the world and we are very excited to have been part of it," said Djemal. "We hope it plays in role in boosting the work of activists who are promoting social issues."