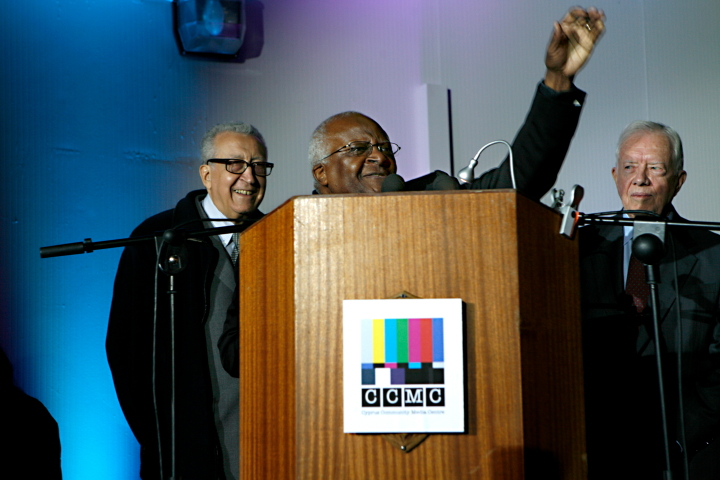 The Cyprus Community Media Centre (CCMC) was opened 9 December by three members of the eminent 'Elders' group, Lakhdar Brahimi, Jimmy Carter and Desmond Tutu, in the Ledra Palace buffer zone of Nicosia.
The three Elders, who are in Cyprus to support individuals and organisations seeking to build greater trust and dialogue between the communities of the island, expressed their support for the new centre, and their desire to see a positive outcome to current political negotiations.
Speaking at the event, Desmond Tutu said that Cyprus was full of untold and beautiful stories and that he hoped "the community media centre could be a vehicle for these stories to surface."
Supported by the United Nations Development Programme's (UNDP) Action for Cooperation and Trust (ACT), the centre aims to create space for more diverse, vibrant and community-led media through its work with community based organisations across Cyprus.
Jaco Cilliers of UNDP-Act, who also spoke at the event, said the CCMC was an intercommunal and multicultural initiative that "deals with the unheard voice, the unseen challenges, the untold story. It is about revealing to us, aspects of our reality and our society that may not already be obvious to us. The CCMC is also about community development. It's about making people aware and encouraging action on important issues."
The well-attended event, which was packed with representatives of civil society, media professionals, artists and members of the diplomatic community, also showcased the work of the CCMC, through multimedia installations, video projections, photographs and stories collected from across Cyprus.