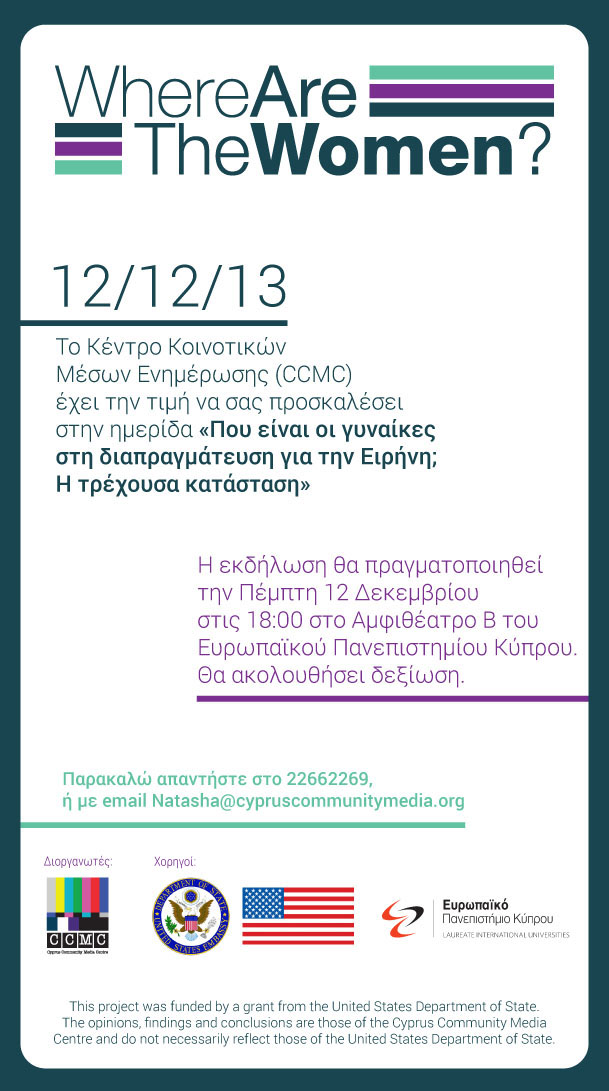 CCMC's new project Where are the Women?: Capturing the Gender Dividend in Cyprus Peace Process and Beyond is starting with it's first Panel Discussion in European University of Cyprus next week! The Panel Discussion entitled "Where are the Women in the Cyprus Peace Process: The Current Situation" will take place at 18:00 on December 12th at the European University Cyprus, Auditorium Beta. The second round of the panel discussions will take place in January at the Eastern Mediterranean University. The series will be followed by multicommunal panel and roundtable discussions in the coming months.
The discussion around the issues of will be coordinated by Dr. Christos Kassimeris, Chair of Department of Social and Behavioural Sciences, European University Cyprus and will feature John M. Koenig, Ambassador of the USA in Cyprus; Lisa Buttenheim, Special Representative and Head of the United Nations Peacekeeping Force in Cyprus; Andreas Mavroyiannis, Negotiator of the Greek Cypriot side on the Cyprus issue; Praxoula Antoniadou, President of the United Democrats Party, former Minister of Energy; Erato Kozakou-Markoullis, former Minister of Foreign Affairs; Katie Cleridou, Commissioner for overseas and religious groups' affairs; Costas Apostolides, Advisor to the President on the Negotiations (1997-2004), Member of the Working Groups; Dr. Maria Hadjipavlou, Associate Professor at the Department of Social and Political Sciences, University of Cyprus; Dr. Olga Demetriou, and Natasha Apostolidou, Project Coordinator of "Where are the women: Capturing the Gender Dividend in Cyprus for Peace and Beyond", CCMC as speakers.
You can see the event program here. For more information, please visit the Facebook Event Page.