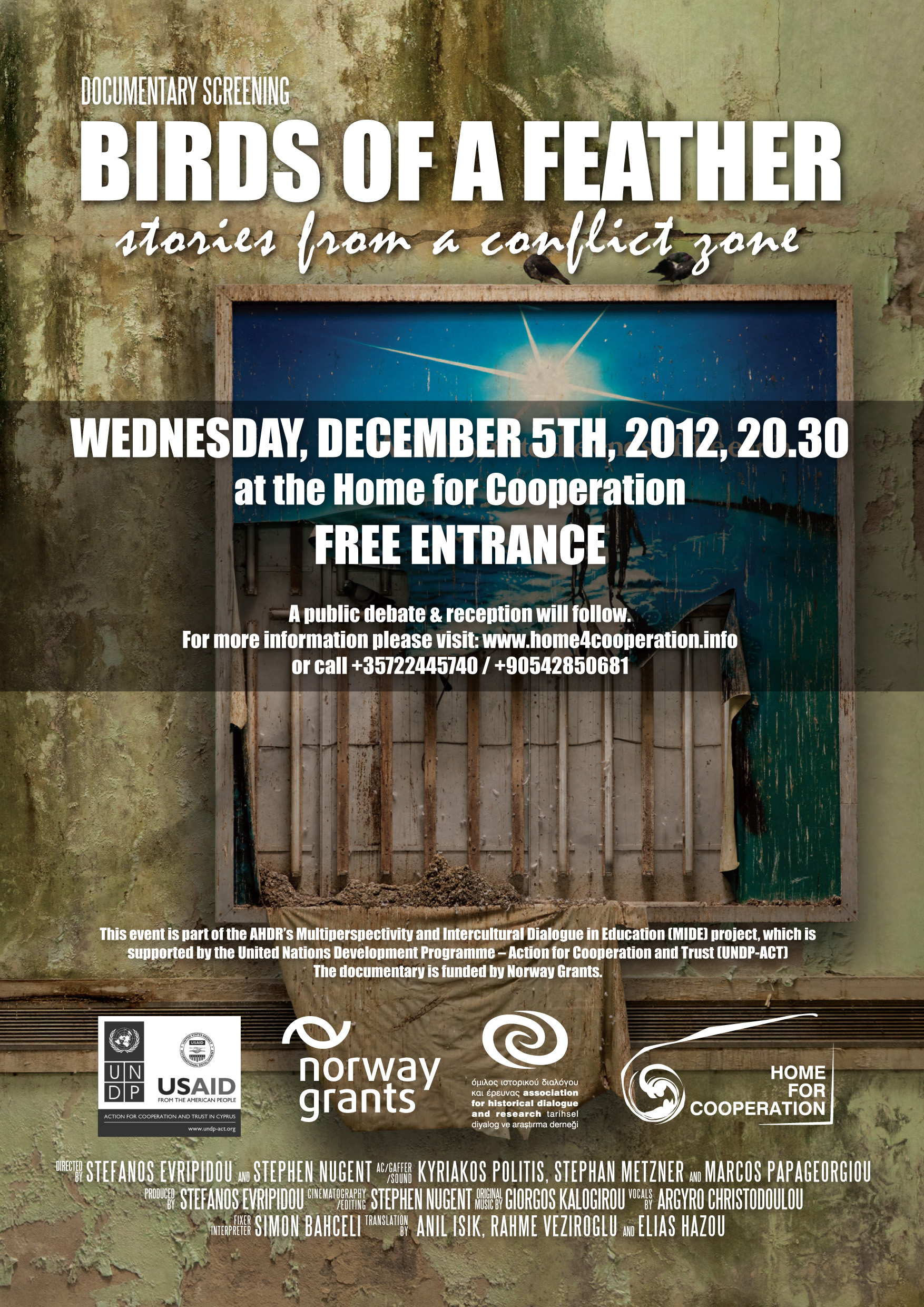 Wednesday, December 5th 2012, Starts at: 20.30, Free Entrance
A public discussion with the film producers will follow
The documentary film 'Birds of a Feather', by Stefanos Evripidou and Stephen Nugent, will be screened at the Home for Cooperation, on Wednesday, December 5th at 20.30. A public discussion with the film producers will follow the screening. Mrs Yeliz Shukri (Filmmaker) and Dr Costas Constantinou (Academician) will make short introductions to the discussion, which will be coordinated by the Head of Prio Cyprus, Dr Harry Tzimitras.
Synopsis: On the southeastern edge of Europe, two communities remain divided on the Mediterranean island of Cyprus, playing host to the UN's third longest peacekeeping mission after Kashmir and the Middle East. This documentary looks at the contrasting personal memories formed in a post-conflict space after decades of physical separation. The well-oiled narratives of each community's official histories have left little room for dialogue or mutual understanding. As stories unravel, the film raises questions on the victimization of truth and the different perspectives of history. Within this framework, the documentary presents the Home for Cooperation and emphasizes the importance of its presence in the UN controlled buffer zone, widely known as 'the dead zone'.
The Producers:
Stefanos Evripidou is an awarded journalist, currently working as chief reporter at the Cyprus Mail. Aside from his work in the press, he has been involved in the production of a short series of video blogs for the Home for Cooperation. Stephen Nugent is a freelance documentary director, cinematographer and editor. He shot various awarded short films, documentaries, and commercials while his work includes documentaries for Greenpeace, shot in the Arctic, Europe and the Middle East.
If you wish to interview the producers please e-mail: h4c@ahdr.info For additional information about the event, please visit www.home4cooperation.info or call 22445740/ 05428506681. The Home for Cooperation is located in the UN controlled buffer zone opposite Ledra Palace Hotel. This event is part of the AHDR's Multiperspectivity and Intercultural Dialogue in Education (MIDE) project, which is supported by the United Nations Development Programme – Action for Cooperation and Trust (UNDP-ACT). This documentary film was funded by Norway Grants: